InterCity Coachlines

InterCity Coachlines is the largest national long distance bus and coach transportation network in New Zealand, transporting international visitors and kiwis around New Zealand for more than 30 years, operating long distance and regional bus and coach services to 500 towns, cities and major skifields within New Zealand with over 120 daily services - 365 days a year. With a range of affordable fares starting from NZ$1.00 and a range of bus and coach passes to suit all travel budgets, travelling with InterCity Coachlines is an affordable way to explore New Zealand.

InterCity Coachlines operates a fleet of modern eco-friendly, air-conditioned buses and coaches featuring reclining seats with foot and head rests. InterCity buses and coaches do not have onboard toilet/washroom facilities but InterCity long distance and regional passenger services do stop regularly for comfort and refreshment breaks.

InterCity Coachlines operates the Starlighter overnight coach service between Auckland, Hamilton, Rotorua, Taupo, Palmerston North and Wellington connecting with Cook Strait ferry services operating between Wellington in the North Island and Picton in the South Island. The Starlighter service features onboard toilet/washroom facility, reclining seats with foot and head rests, individual reading lights and air conditioning controls and makes two refreshment/comfort stops on route.
Back - Top - For further information, online fares, timetables and reservations
Newmans Coachlines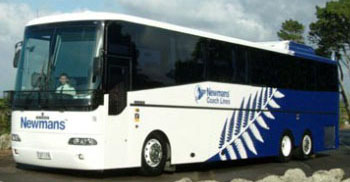 Newmans Coach Lines has been at the forefront of New Zealand passenger transportation since its humble beginnings with a horse drawn carriage service in 1879. Newmans Coach Lines is now a leading New Zealand coach operator, offering scheduled services that link New Zealand's main commercial and tourist centres, as well as providing sightseeing excursions to selected tourist destinations.

Newmans Coachlines operates premier long distance coaches providing high quality city to city services on major tourists routes connecting Queenstown, Wanaka, Fox Glacier, Franz Josef and Christchurch in the South Island.

Newmans Coachlines operates a fleet of full size modern eco-friendly, luxury air-conditioned touring coaches with reclining seats with head and foot rests and highly trained coach drivers, who will look after you and make sure you get to your destination, safely.
Back - Top - For further information, online fares, timetables and reservations
Great Sights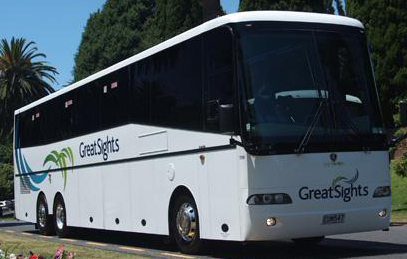 Great Sights Coachlines operates premier long distance coach service with a fleet of modern, eco-friendly touring coaches on major tourists routes connecting Milford Sound with Queenstown and Queenstown, Mt Cook/Aoraki, Christchurch in the South Island and Auckland, Paihia (Bay of Islands), Waitomo Caves and Rotorua in the North Island, departing daily for the independent traveler.

All Great Sights coaches are fully equipped with air conditioning, reclining seats with foot and head rests, onboard washroom/toilet facilities, video and multi-lingual commentary (Japanese, Mandarin and Spanish on selected tours).

Great Sights Milford Sound coaches feature glass roofs to ensure clear and unrivalled viewing of New Zealand's incredible scenery.

Back - Top - For further information, online fares, timetables and reservations