Accommodation
Bus/Coach Services
Train Services
Ferry Services
Air Services
Bus/Coach Passes
Rental Car Hire
Campervan Hire
Tour Packages
Sightseeing Tours
Sightseeing Attractions
Travel Information
Responsibilities
Help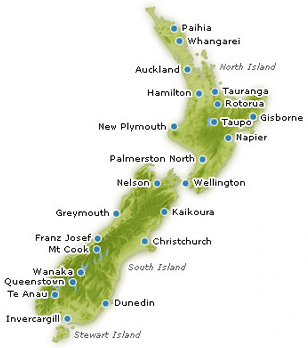 Kia Ora and welcome to Click Book Go!

New Zealand is known in the native Maori language as Aotearoa, often translated as The land of the long white cloud.

New Zealand is a country of stunning and diverse natural beauty: Soaring mountain peaks, fiords, lakes, rivers, and active volcanic features. The islands are inhabited with many species of unique fauna and animal life, including the elusive kiwi, which has become the national symbol.
New Zealand comprises of two main islands, the North and South Islands, separate by Cook Strait - a 30 kilometre stretch of water where the Tasman Sea and the South Pacific Ocean meet. With 15,134 km of coastline, New Zealand is a little less in size than Italy or Japan and a little more than the United Kingdom.

New Zealand has significant number of smaller inhabited islands including Stewart Island/Rakiura; Waiheke Island, in Auckland's Hauraki Gulf; Great Barrier Island, east of the Hauraki Gulf and the Chatham Islands.
Known as the Adventure Capital of the World, it's no surprise that there's a vast range of activities to choose from; go bungy jumping, hop onboard a jet boat and travel down winding rivers, or enjoy an incredible hike through one of 14 National Parks. New Zealand's majestic mountains also provides world-class skiing and snowboarding in winter.

New Zealand is sparsely populated but is easily accessible with developed transportation networks and modern tourism and visitor facilities.

With a range of adventure tours, ski tours, eco-tours, small groups, event tours and independent travel tour options, to name a few of the many opportunities available to the visitor wishing to see New Zealand's scenic beauty, you can check online accommodation availability in the city you want to stay in, check availability and rates from rental car and campervan hire or check seat availability and make instant confirmation reservations for bus, coach, ferry and tours - 24 hours a day/7 days a week from your laptop, IPad/ Andriod tablet, netbook or internet cafe, with 'Click Book Go' online reservation system. Once your reservation has been confirmed and paid for, you will receive your 'Booking Confirmation Voucher' or 'E-Ticket/Itinerary' by email for you to print and include in your travel documents.